- 2017-10-03 01:52:22 PM
---
It was another rocking day for US markets, all three indexes closed at record highs! An above average P/E ratio for these indexes has often been an argument for a stretched market. As I was saying to a client yesterday, looking at P/E ratios or any other metric in isolation means you miss the big picture.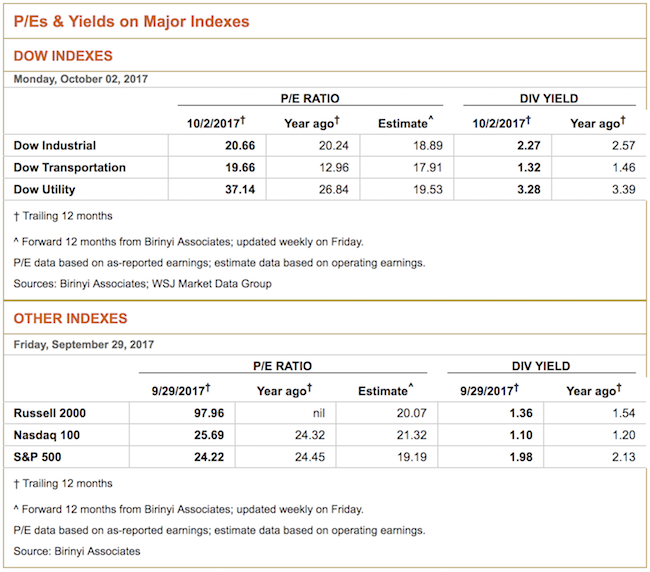 Found at WSJ - P/Es & Yields on Major Indexes
Having P/E Ratios in the low to mid 20's is high by historic standards, see the graph below. Even though the S&P 500 is up 20% over the last two years, its valuation has stayed around its current level. Having a look at the forward P/E ratios, this gives a good indication of what investors expect future profits to be. The Dow and the S&P 500 both quickly unwind to a P/E of 19 and the year after that they move into the mid-teens.
This is a big assumption but assume that there is no major crisis in the next few years. On the current course of rising interest rates, market P/E's will unwind; higher interest rates means you pay less of a premium for an asset. Given how slow the rise in interest rates are, share prices don't need to drop for the P/E to come down. The underlying growth in profits will bring down the ratio over time.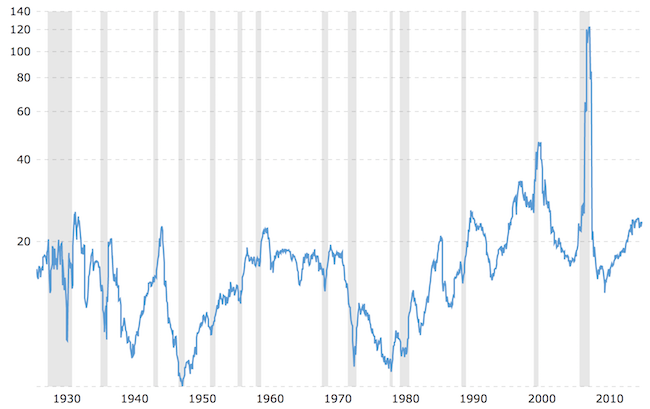 Found at Macrotrends - S&P 500 PE Ratio
Have a quick look at the dividend yields of the respective indexes. If the current market valuation was out of whack with reality, the yields would be very low. Between 1996 and 2008, the yields on the S&P 500 were in the mid to low one-percent's and that was in an environment with much higher interest rates. I would say that the market is fairly valued at the moment. When or what will cause the next crash, that is an entirely different topic.
Here is the scorecard for yesterday, the Dow was up 0.68%, the S&P 500 was up 0.39%, the Nasdaq was up 0.32% and the All-share was up 0.36%. Our market is around 1.5% away from its all time highs. Two good days and we will get there.
One thing, from Paul
How about a good news story? We haven't had one of those for a while. Life goes on, and businesses need to invest regardless of the ANC's December conference outcome!
BMW hosted local journalists at its plant in Rosslyn, north of Tshwane yesterday to announce a plan to spend an extra R160m on its South African assembly plant to increase the production capacity of its new X3 sports utility vehicle. That's on top of the R6bn already committed last year. Annual output will swell to 76,000 units - BMW SA to invest another R160m in Rosslyn plant
Home again, home again, jiggety-jog. Our market is green again this morning, moving into the 56 thousand territory again. There is another holiday today for some Asian markets, and Germany for Unification Day. Curro unbundled Stadio this morning, who will announce a R 800 million rights issue in the coming days. The education sector is very exciting at the moment!
Article by Team Vestact.